Welcome Brave Adventurers!
ONCE UPON A TIME… YOU WERE A PRINCESS, A PIRATE,
A CIRCUS PERFORMER OR A THOUSAND OTHER THINGS. YOU HAD MAGIC POWERS.
You saved a prince. You traveled to faraway lands with nothing but your imagination and some plastic toys.
You played outside for hours without any electronic distractions. Heck, your parents might've kicked you out for the day, and you weren't allowed back in 'til dusk. Now you have kids of your own. Kids who do these very same things, and want you to come along. There's a problem, though. You find you've kind of…forgotten how.
I'D FORGOTTEN AS WELL. WHEN DID WE FORGET?
What made our Imagination stop producing such vivid realities? Was it the tiny screen we stare at all day? Or has it been the long work days we've had?
My boys were Jedi knights, time traveling doctors, and wizards from lands afar. I wanted- no, needed– to get back into that mindset.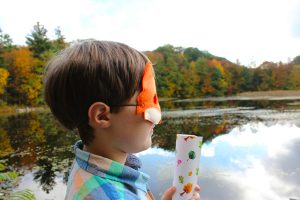 I wanted to play with my children, to go where they go, and experience their life with them. I needed to see the things I used to imagine.
I knew that something had to change.
That's why I started Addie & George.  Creating children's art and toys to help you remember those imaginative adventures you so easily had as kids. Now you can imagine with your own children!  Our wall art come with stories waiting to be finished by you and your little ones.
Our children's wall art, kits, toys and new upcoming releases will take you on amazing journeys through fantastical forests and journeys of the mind. If you need a little help getting started, each kit comes with adventure starters.
AS YOU PLAY, YOU WON'T EVEN REMEMBER LEAVING YOUR PHONE BEHIND.
You'll be far too busy fighting pirates with your precious ones. You're just one click away from making memories that last not only your lifetime, but theirs as well.
Carey's art is so special, I want them all! This one is going to make one little girl so happy. Fast shipping, packaged beautifully and top quality..